Apollo Tools DT1100 157 pc Advanced Search Kit
Limit 3 per customer
Hurry only 1 left!
add to cart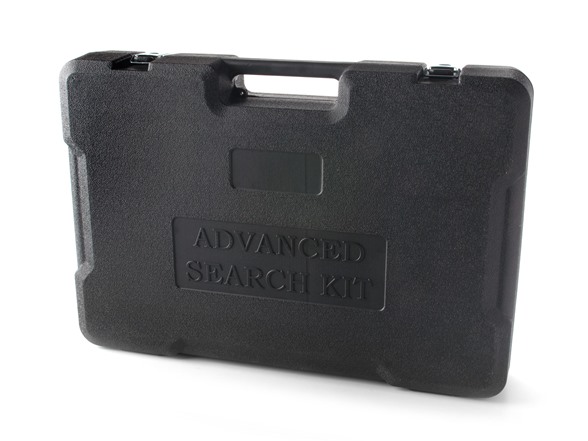 Features
Contains all the tools necessary for most household projects and mechanical repairs
Tools are heat-treated and chrome plated to resist corrosion
Tools are contained in a sturdy blow-molded case with a built-in carrying handle for convenient storage
Comprehensive tool kit specifically tailored for searching vehicles and residences
Supplements a basic tool kit and integrates into a complete package the specific tools necessary for an effective search
Included are a LED headlamp, probe and Sequence Bypass Tool designed to assist in a comprehensive search
Made by Apollo Tools
Branded and packaged for Palestra Group International. (What, you've never heard of them?) The parts list on the packaging isn't quite right, so trust our photos and parts list below.
The Kit Contains:
3" Magnetic Tray
6" Diagonal Pliers
6"Crimping Pliers
7" Pry Bar
7" Locking Pliers
8" Adjustable Wrench
8 oz Stubby Claw Hammer
12ft Tape Measure
UL Electrical Tape 30'
18mm Knife
Tire Gauge
Head Lamp
Stethoscope
Door Panel Remover
Electric Voltage Tester
Small Telescoping Inspection Mirror
Magnetic Extension Rod
Stubby Screwdriver: PH2x1-1/2"
Stubby Screwdriver: 1/4"x1-1/2"
D-N-4 Ratcheting Bit Driver
D-N-3 Phillips #2 x 4" Screwdriver
D-N-3 Slotted 1/4" x 4" Screwdriver
3/8" Drive Torque Bits CR-V T45, T47, T50, T55, T60
3/8" Dr. Universal Joint
3/8" Drive 5/8" (16mm) Sparkplug Socket
3/8" Drive 13/16" Sparkplug Socket
1/4" Drive x 4" Socket Extension Bar
3/8" Drive x 6"Socket Extension Bar
1/4" Drive x 3" Socket Extension Bar
3/8" Ratcheting Socket Driver
10 pc Cr-V 1" Bits: T10; T15; T20; T25; T27; T30; 1/8; 5/32; 3/16; 1/4
10 pc Cr-V 1" Bits: PH0, PH1, PH2, PH3, 1/8, 3/16, 7/32, 1/4, T15, T20
10 pc Cr-V 1" Bits: S0, S1, S2, S3, 1/16, 5/64, 3/32, 1/8, 5/32, 3/16
10 pc Cr-V 1" Bits: 1/8; 5/32; 3/16; 1/4; PH1; PH2; PH3; PZ1; PZ2; PZ3
Metric Nut Driver:4mm, 5mm, 6mm, 7mm, 8mm
SAE Nut Driver: 5/32", 3/16", 1/4", 9/32", 5/16"
Metric Combination Wrenches: 11mm, 12mm, 13mm, 14mm, 15mm, 16mm
SAE Combination Wrenches: 7/16'', 1/2'', 9/16'', 5/8'', 3/4'', 7/8''
3/8" Drive SAE Sockets: 3/8", 7/16", 1/2", 9/16", 5/8", 11/16", 3/4", 7/8"
3/8" Drive Metric Sockets: 12mm, 13mm, 14mm, 15mm, 16mm, 17mm, 19mm, 21mm
1/4" Drive SAE Sockets: 5/32", 3/16", 1/4", 9/32", 5/16", 3/8", 7/16", 1/2"
1/4" Drive Metric Sockets: 4mm, 5mm, 6mm, 7mm, 8mm, 9mm, 10mm, 11mm, 12mm, 13mm, 14mm
11pc Metric Hex Key Set: 1.27mm, 1.5mm, 2mm, 2.5mm, 3mm, 3.5mm, 4mm, 4.5mm, 5mm, 5.5mm, 6mm
11pc SAE Hex Key Set: 1/20", 1/16", 5/64", 3/32", 7/64",1/8", 9/64",5/32", 3/16", 7/32", 1/4"
Space for Client' product (9 inches long, 4 inches wide, and 3 inches deep)
Space for Probe with a handle – to be inserted by customer
Shipping Note: Eligible for shipping to all 50 states
Warranty: 1 Year Apollo Tools
Specs
Apollo Tools DT1100 157 pc Advanced Search Kit Contains:
3" Magnetic Tray
6" Diagonal Pliers
6"Crimping Pliers
7" Pry Bar
7" Locking Pliers
8" Adjustable Wrench
8 oz Stubby Claw Hammer
12ft Tape Measure
UL Electrical Tape 30'
18mm Knife
Tire Gauge
Head Lamp
Stethoscope
Door Panel Remover
Electric Voltage Tester
Small Telescoping Inspection Mirror
Magnetic Extension Rod
Stubby Screwdriver: PH2x1-1/2"
Stubby Screwdriver: 1/4"x1-1/2"
D-N-4 Ratcheting Bit Driver
D-N-3 Phillips #2 x 4" Screwdriver
D-N-3 Slotted 1/4" x 4" Screwdriver
3/8" Drive Torque Bits CR-V T45, T47, T50, T55, T60
3/8" Dr. Universal Joint
3/8" Drive 5/8" (16mm) Sparkplug Socket
3/8" Drive 13/16" Sparkplug Socket
1/4" Drive x 4" Socket Extension Bar
3/8" Drive x 6"Socket Extension Bar
1/4" Drive x 3" Socket Extension Bar
3/8" Ratcheting Socket Driver
10 pc Cr-V 1" Bits: T10; T15; T20; T25; T27; T30; 1/8; 5/32; 3/16; 1/4
10 pc Cr-V 1" Bits: PH0, PH1, PH2, PH3, 1/8, 3/16, 7/32, 1/4, T15, T20
10 pc Cr-V 1" Bits: S0, S1, S2, S3, 1/16, 5/64, 3/32, 1/8, 5/32, 3/16
10 pc Cr-V 1" Bits: 1/8; 5/32; 3/16; 1/4; PH1; PH2; PH3; PZ1; PZ2; PZ3
Metric Nut Driver:4mm, 5mm, 6mm, 7mm, 8mm
SAE Nut Driver: 5/32", 3/16", 1/4", 9/32", 5/16"
Metric Combination Wrenches: 11mm, 12mm, 13mm, 14mm, 15mm, 16mm
SAE Combination Wrenches: 7/16'', 1/2'', 9/16'', 5/8'', 3/4'', 7/8''
3/8" Drive SAE Sockets: 3/8", 7/16", 1/2", 9/16", 5/8", 11/16", 3/4", 7/8"
3/8" Drive Metric Sockets: 12mm, 13mm, 14mm, 15mm, 16mm, 17mm, 19mm, 21mm
1/4" Drive SAE Sockets: 5/32", 3/16", 1/4", 9/32", 5/16", 3/8", 7/16", 1/2"
1/4" Drive Metric Sockets: 4mm, 5mm, 6mm, 7mm, 8mm, 9mm, 10mm, 11mm, 12mm, 13mm, 14mm
11pc Metric Hex Key Set: 1.27mm, 1.5mm, 2mm, 2.5mm, 3mm, 3.5mm, 4mm, 4.5mm, 5mm, 5.5mm, 6mm
11pc SAE Hex Key Set: 1/20", 1/16", 5/64", 3/32", 7/64",1/8", 9/64",5/32", 3/16", 7/32", 1/4"
Space for Client' product (9 inches long, 4 inches wide, and 3 inches deep)
Space for Probe with a handle – to be inserted by customer
Storage Case
Sales Stats
Speed to First Woot:

6h 1m 0.993s
Last Wooter to Woot:

poken1151
Purchaser Experience
9%

first woot

3%

second woot

23%

< 10 woots

20%

< 25 woots

46%

≥ 25 woots
Purchaser Seniority
6%

joined today

3%

one week old

0%

one month old

20%

one year old

71%

> one year old
Quantity Breakdown
91%

bought 1

6%

bought 2

3%

bought 3
Percentage of Sales Per Hour
| | | | | | | | | | | | | | | | | | | | | | | | |
| --- | --- | --- | --- | --- | --- | --- | --- | --- | --- | --- | --- | --- | --- | --- | --- | --- | --- | --- | --- | --- | --- | --- | --- |
| | | | | | | | | | | | | | | | | | | | | | | | |
| 12 | 1 | 2 | 3 | 4 | 5 | 6 | 7 | 8 | 9 | 10 | 11 | 12 | 1 | 2 | 3 | 4 | 5 | 6 | 7 | 8 | 9 | 10 | 11 |
Percentage of Sales Per Day
| | | | | | | |
| --- | --- | --- | --- | --- | --- | --- |
| | | | | | | |
| Mon | Tue | Wed | Thu | Fri | Sat | Sun |
Woots by State
zero wooters wooting
lots of wooters wooting